Make your own Springs for Woodworking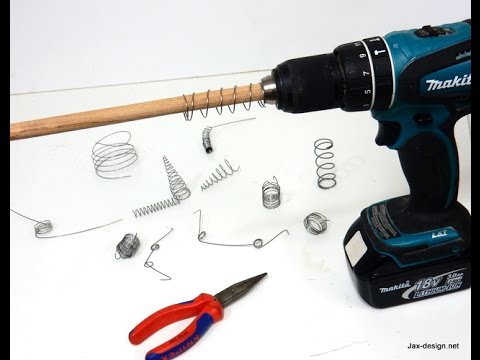 |
Need a Spring for Something?
I have had many springs break on me in the past and after grumbling a lot, I would do the search for a new one.  I would look through old things that had springs to see if I could use them or sometimes take apart new things for them.
I came across this video from Jax and the light bulb went on.  I Can Make My own Springs.
Jax uses wire from a piano to make most of this springs, but any semi flexible wire would do.  I plan to try some different types to see what they make.  Obviously solid wire used for electrical work would not work as it is too dense and would not flex enough.
At one point in the video where he tested out a spring and sent a piece of wood flying into the air, I thought of some of the toys that I can make for my granddaughter that will move and throw stuff.
There are not many tools involved.  A Drill, screwdriver, saw and some dowels.
Jax shows us how to make 4 different types of Springs:
Tension spring
Compression spring
Tapered spring
Torsion spring
This is a easy project to do.  Watch the video and Enjoy.
Thanks to Jax Design for this Article…