Storage Shelves, a Tutorial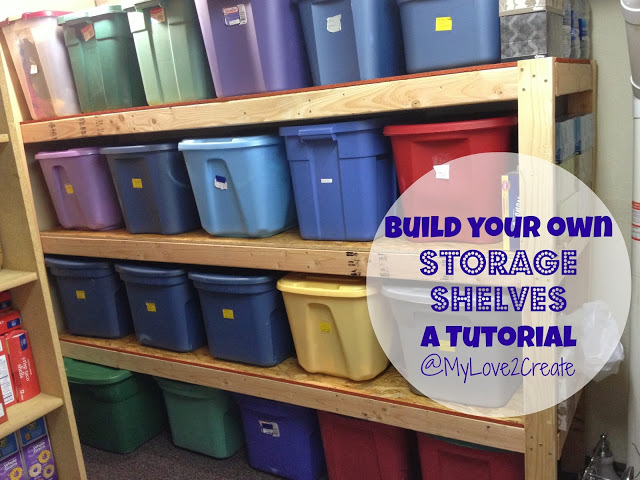 |
Stuff everywhere and nowhere to walk.
Sound familiar.  Kids are growing up but we still want to keep some of their stuff for the memories it brings.  Lots of wool all over the house but cannot find the one you want. I know I have this around somewhere.
Storage is always the key in any house or garage no matter how big or small it is.  I built 2 of these shelves in the basement for storing things my kids made when they where younger.  Each has a shelf with tote boxes on them with their names.  I look through them and it brings a smile to my face and some good memories.
These are great shelves as they are made out of cheap 2×4 and some plywood.  You can get the plywood cut at the store where you bought it and a nice hand saw for the 2×4.  So no big tools needed.
This is a great story and we have all been there.  Move all the stuff out of the way, put down some carpet and then go to put everything back and think "I need to organize this better"
I ran across Mindi's story and thought it would be a great post as we all have been there.  Get something for free and then 3 more projects spawn from that.
This is a #easy woodworking project and could be knocked off in a day.  Next thing is to wait for Walmart or your local store to put some bins on sale and off we go to an organized state.
Enjoy Mindi's store.
It feels so good to be back!  You may have noticed I have been MIA for a little bit.  First, I started a huge project, I wasn't planning on, which is what I am sharing today.

I am all about free, as you know.  So back in the spring when my friend asked if I wanted a remnant roll of brand new carpet for free, I took it gratefully.

The next day I put in the new carpet.  I wasn't planning on blogging this and then I thought I should at least take a few photos, so you didn't get a real before, which is good because you would be shocked and appalled at the state of this room.  Hmmm, if you picture someone swimming through piles of bins and junk, then you might have a small idea, floor space was a rare treat!