Double Compost Bins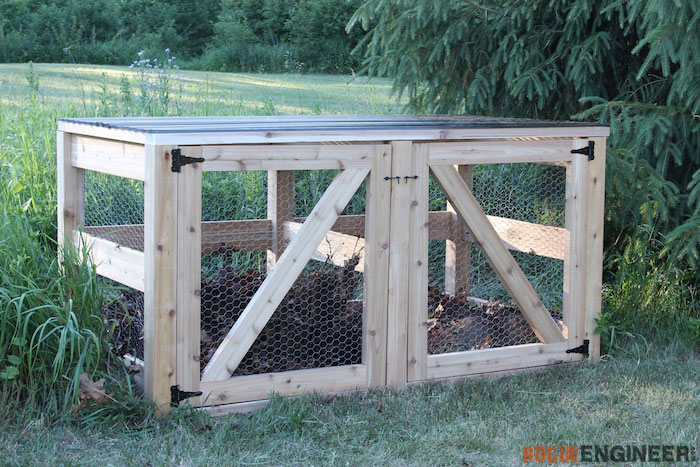 |
If you have the space then this compost bin is a must.
I have a good size backyard and I tend to put my grass clippings and other compostable stuff in a pile in the back corner of my yard.  While it works, its not really the most efficient or prettiest thing to look at.
This is a good plan for a #compost bin and is a double one so that one can be cooking while filling the other one.  If you do not have the space then this plan can easily be sized down to only make a single one.
Jamison uses cedar for everything and that can be a little expensive if you are on a tight budget.  One option would be to find some pallets and cut them to size.  You won't find any 4×4 posts in a pallet, but you can nail/glue together 2 2×4's and that will get you some sturdy corner posts.
Jamison uses pocket holes for all his joining and we all don't have a jig for that.  So simple butt joints will work, just make sure you predrill the holes first so the wood does not split on you.  If you have a pocket joint jig then now is the chance to use it.  I have a mini one and love it.

After all this is a compost bin for stuff to basically rot in, so there is no beauty contest to win.
Garage sales are always good for hinges and depending on where you live, sometimes some chicken wire or screening from a old door or window.
Once you have gathered all the materials required, then this should be a simple weekend project.
Composting is one one of the greenest things you can do. Not only are you diverting garbage from the landfill but you are creating amazing soil. Since the composting process dose take time this double compost bin allows multiple batches. The lid makes for easy disposal and the doors for easy removal of the compost when it's ready for use.

I started by assembling the frame using 2-1/2″ Kreg HD screws. You'll notice that this may look a little different from the plans. I decided after I was done that the door needed to framed in to prevent sagging. That is why the 2x4s above and below the door are missing.

If you decide to take on this project I highly recommend you download the printable PDF below to have with you during the build. To do so just head on over to the full plans on buildsomthing.com.