Candle Holder from 2 x 4 Scraps.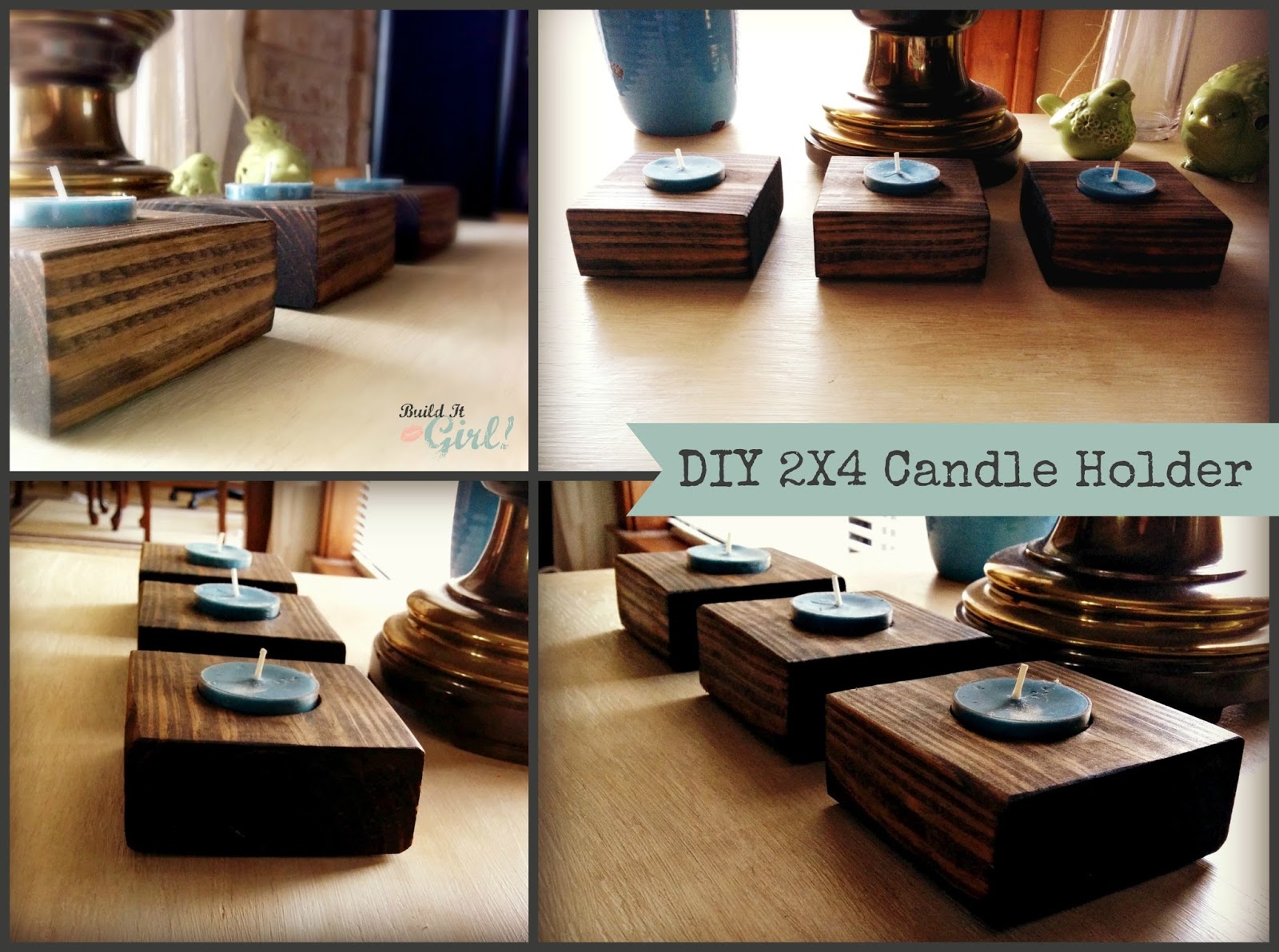 |
What do you do with your #2X4 scraps? Why not make a candle holder?
There's lots of cool things out there that you can make with just 2X4s, in fact this weekend I'm going to share with you the new workbench I made specifically for my new compound miter saw, all out of 2x4s.
Bigger projects leave you with a lot of  little 2X4 scraps and there is a lot of cool things out there that you can make with them.  So with all those little scraps laying around I thought, "Why not do something with those, instead of just throwing them in the 2X drawer or (gasp) the trash!)
Why not make little simple chic candle holders?
What you Need:
Scrap 2X4s – or if you don't have any, go to the store and get a 2X4 and then make a set for all your friends
Pencil
tape measure
straight edge of any kind
saw (circular, compound miter, hand saw… just anything to cut the wood)
drill
spade bit for your drill at 1 1/2 inches
paint or stain
poly (or wax if you're using chalk paint)
sander and/or sandpaper
tealight candles
clamps
rubber gloves (unless you like the dirty finger nail look after you stain!)
Ok, it seems like a lot of stuff, but really it's not!
See those sample paints in the background??  Getting a color of your choice in those is great for this kind of project!  Not to mention, sometimes you can get 'mistake' sample pots for like 50 cents!
So lets get Started:
Step One:  Did you know that a 2X4 is neither 2 inches thick OR 4 inches wide?  Isn't that annoying…?  So, to start, grab your 2X4 and measure across the width (which should be 4 inches, but is not!), take note of what that measurement is.  Now you'll want to measure along the length of your 2X4 and make a mark at what you measured for the width.  For example if the width of your 2X4 is 3.75 inches, then measure down the length to 3.75 inches, this will ensure you have a square candle holder.
Step Two:  Cut at your mark, measure and repeat if you want to make more.

TIP:  Do not mark all of your pieces on one length of wood and then cut them all.  Always mark, cut, mark cut… WHY?  Because when you actually cut your piece you are losing some length on your board via the blade- it may only be eighths of inches, but the end result will be shorter and shorter pieces.  And while we're talking tips, it's always a good idea to start your 2X4 with a cut – just a very small one to cut off the end to make sure you are starting with a square edge to begin with.

Step Three:  Now that you have your little square piece of 2X4, take your straight edge and make an X across the top from corner to corner – the intersection of these two lines will be the center of your piece and where you will make your hole.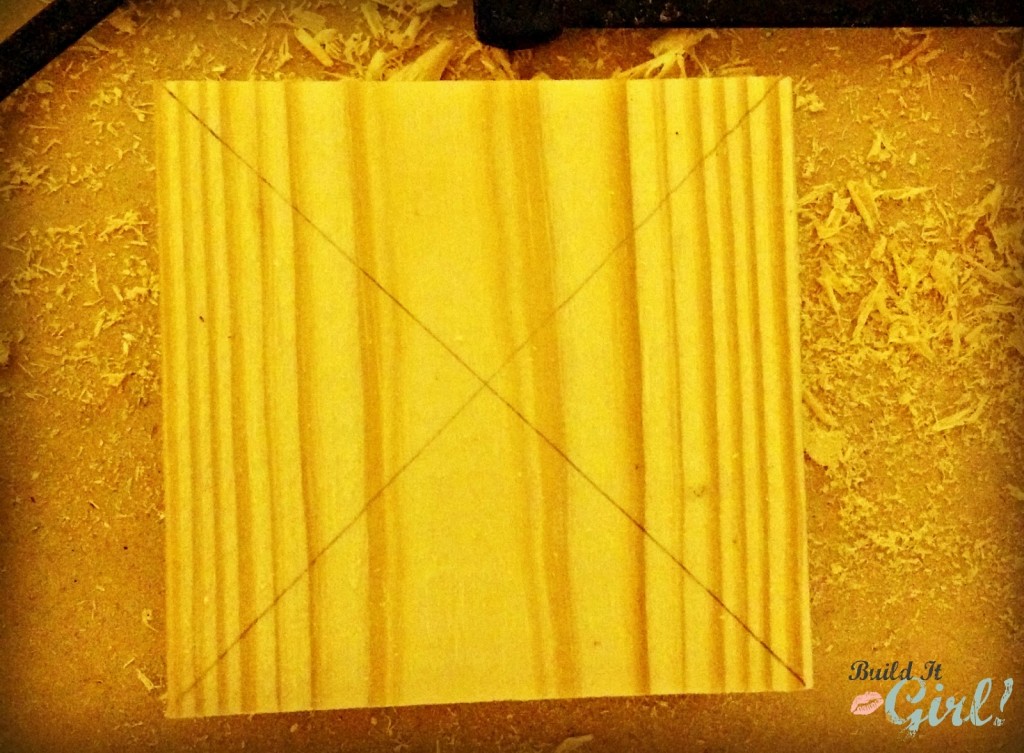 Step Four:
 Do you remember when we talked about
drill safety
?  Well, let's add to that a bit (haha, a drill pun!)… you have this little piece of wood that you're about to drill into.  With the spade bit in your drill… I promise you that you should not try to hold this as you drill it, please clamp it down.  It will be hard for you to leave me comments without any fingers! 😉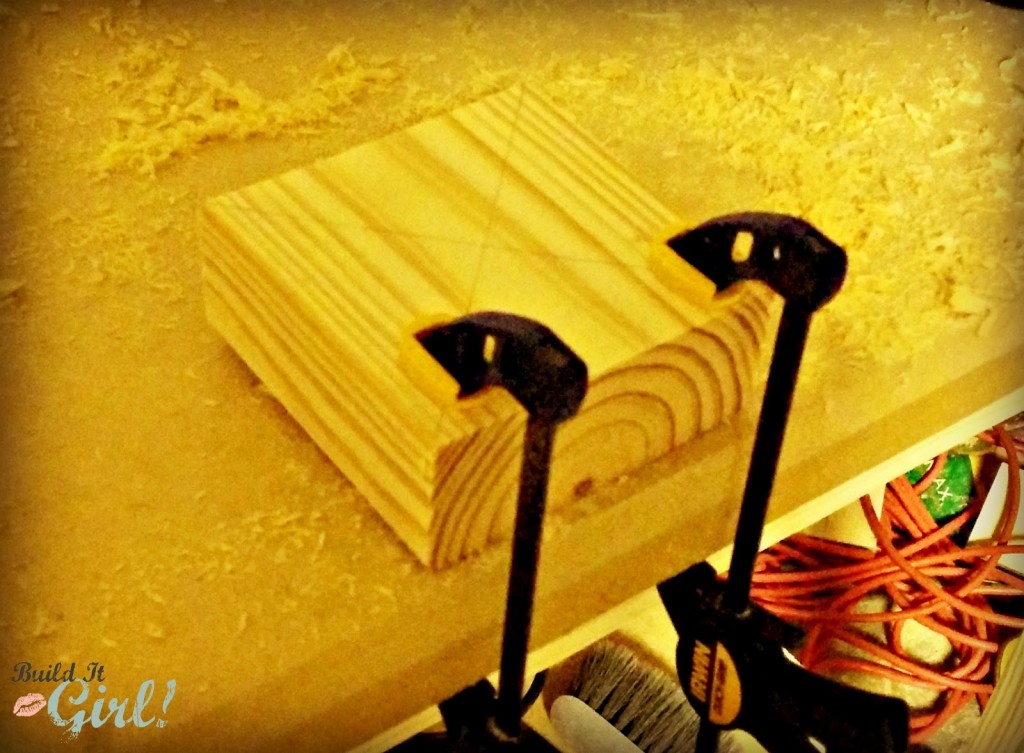 isn't the grain on this wood pretty?
Step Five:   Put your 1 1/2 inch spade bit in your drill.  stick the point of the bit into the intersection of your "X" on your wood, and slowly and steadily, begin drilling your hole.
TIPS:  Keep your drill as straight up and down as possible as the bit penetrates the wood. Apply some downward pressure but not too much.  You may need to stop and pull out your bit and blow it off once in awhile, if it is covered in sawdust, it won't cut very well – in fact, check out the picture of my bit in the supply list above, it needs to be blown off!  This step is going to take a lot of battery juice if you are using a cordless drill. Be sure to have a fully charged battery on your drill, and if you are doing more than one (and don't have a spare battery), after you finish the first one, charge your battery while you sand the one you just drilled.   So if we compare this to those of you that are sock, sock, shoe, shoe people instead of a sock, shoe, sock, shoe person, you want to do drill, sand, drill, sand, not… drill, drill, sand, sand!  OK!  Way off topic – but I just can't resist an analogy!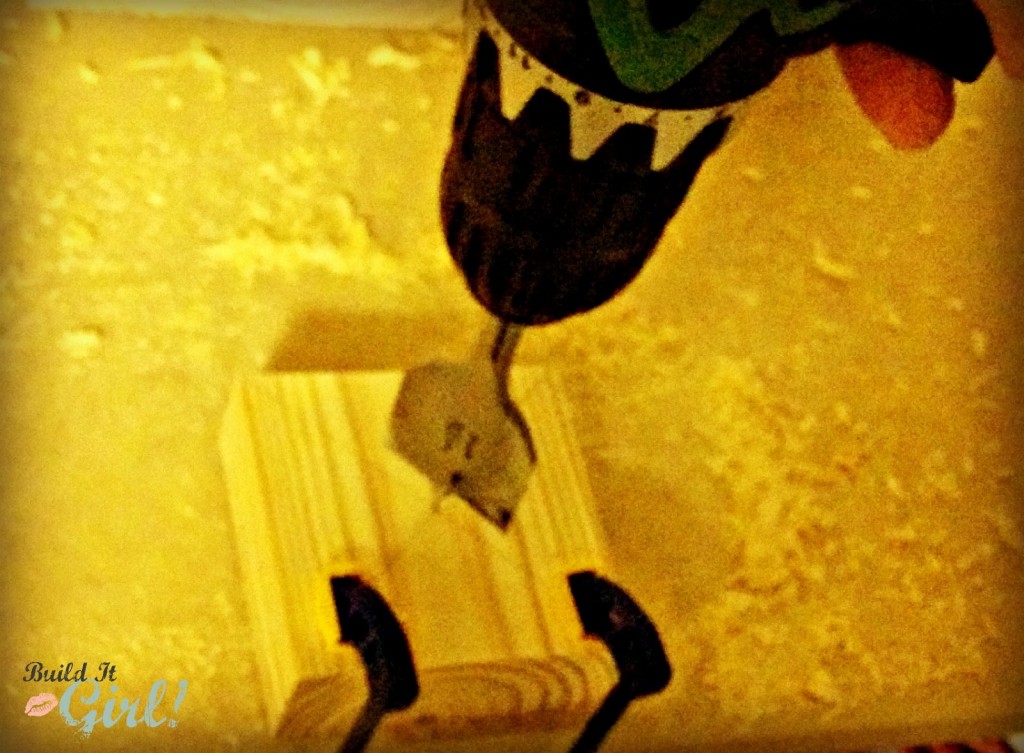 The best way to see if you've gone deep enough is to just grab one of your tealights and plop it in there and check.  Once you get it deep enough, find something that is small and has a straight edge, stick it in the hole, and mark how far up it comes.  Not very scientific, eh?  I used a piece of packaging cardboard that came off a tool I just bought.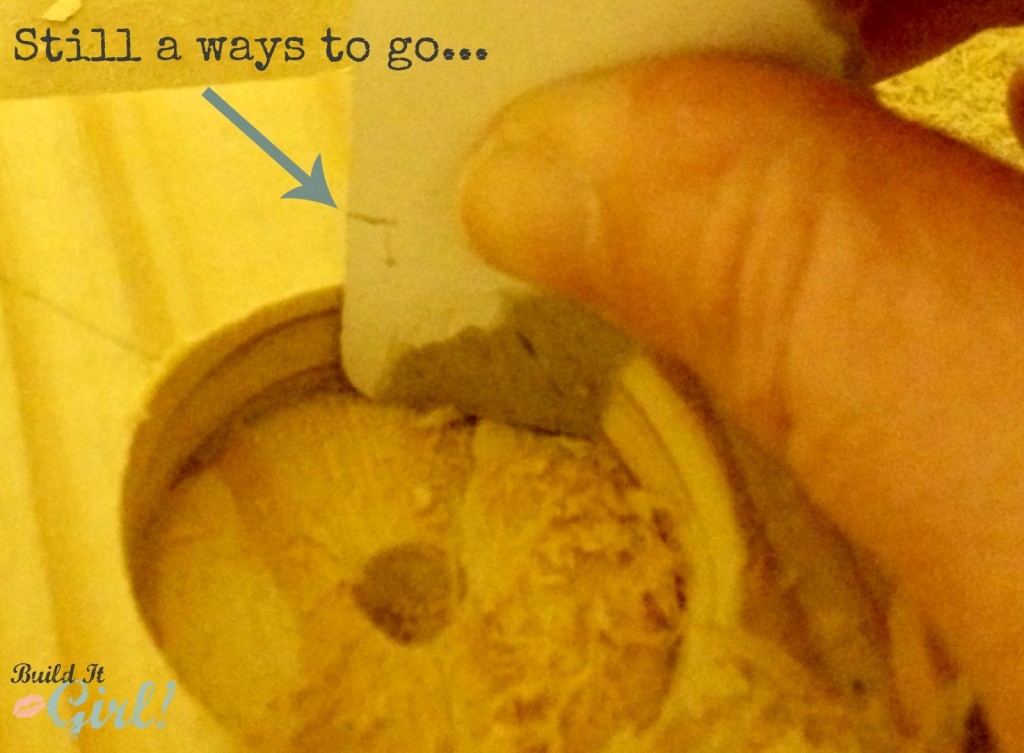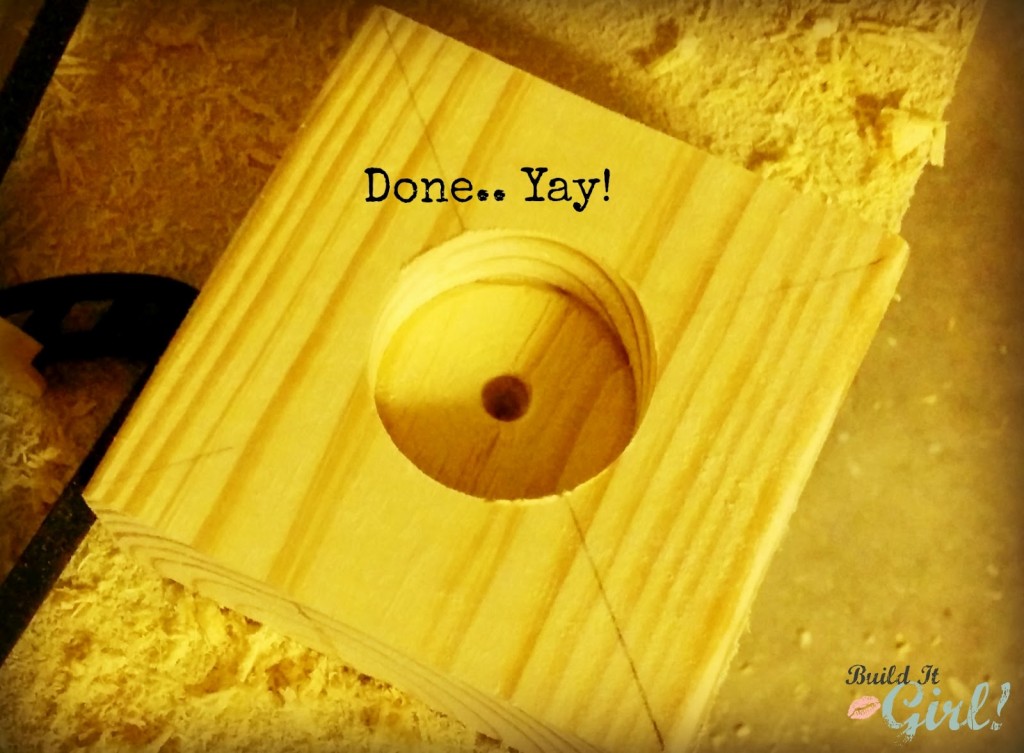 Step Six:  Whew.. is your arm tired from drilling?  Now it's time to sand this little guy!  I used 325 Grit Sandpaper that was already on my sander, you can do it either by hand or on your sander.  Sand all surfaces and round off your corners.  (don't forget to charge your drill while you're doing this!)
TIP:  While catching your finger on the sander probably won't send you to the hospital, it isn't fun either!  So for this little piece of wood, I would suggest grabbing your clamp again and clamping it around your wood and use that to hold it while you sand it.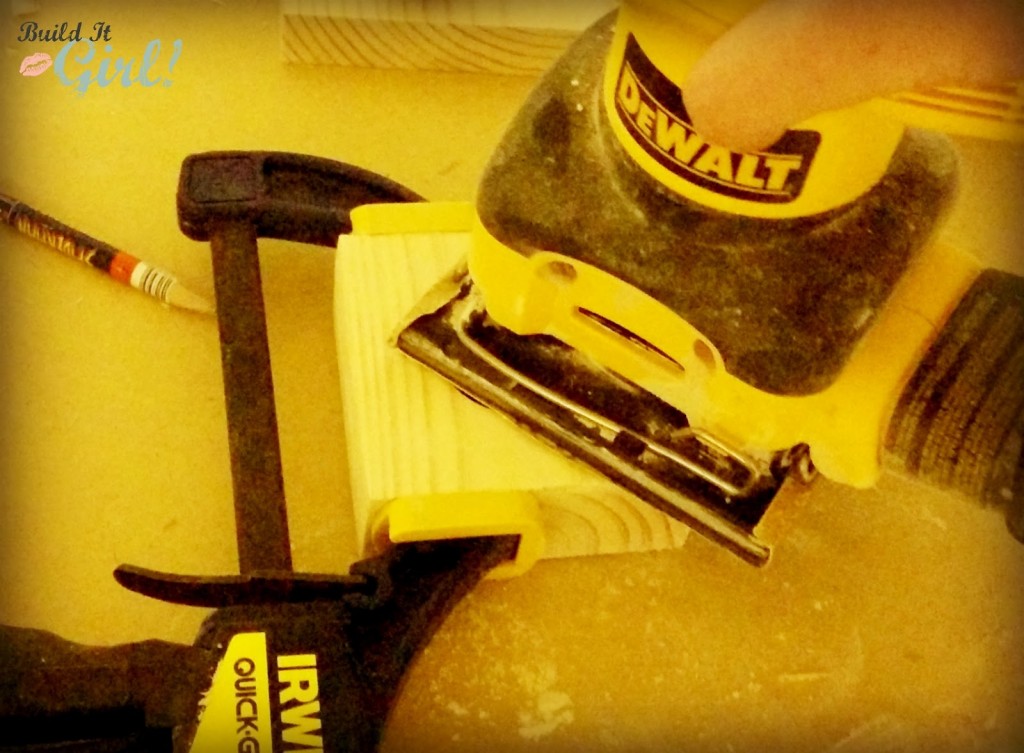 Step Seven:  Finish your candle holder.  I stained this set because the wood grain was so pretty (I used Jacobean stain by Minwax).  But, maybe you want to paint them, maybe spring colors for easter, heck, maybe you want to paint them like an Easter egg for your Easter table, or what about a colored stain, or cool spray paint that dries with some kind of texture… the possibilities are endless!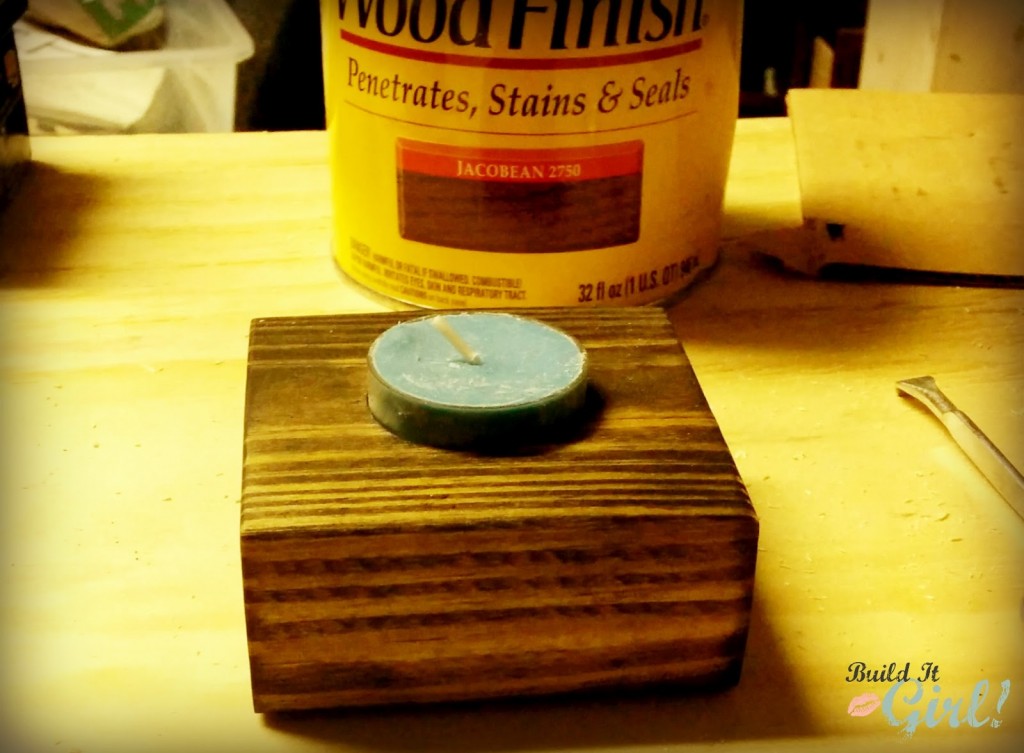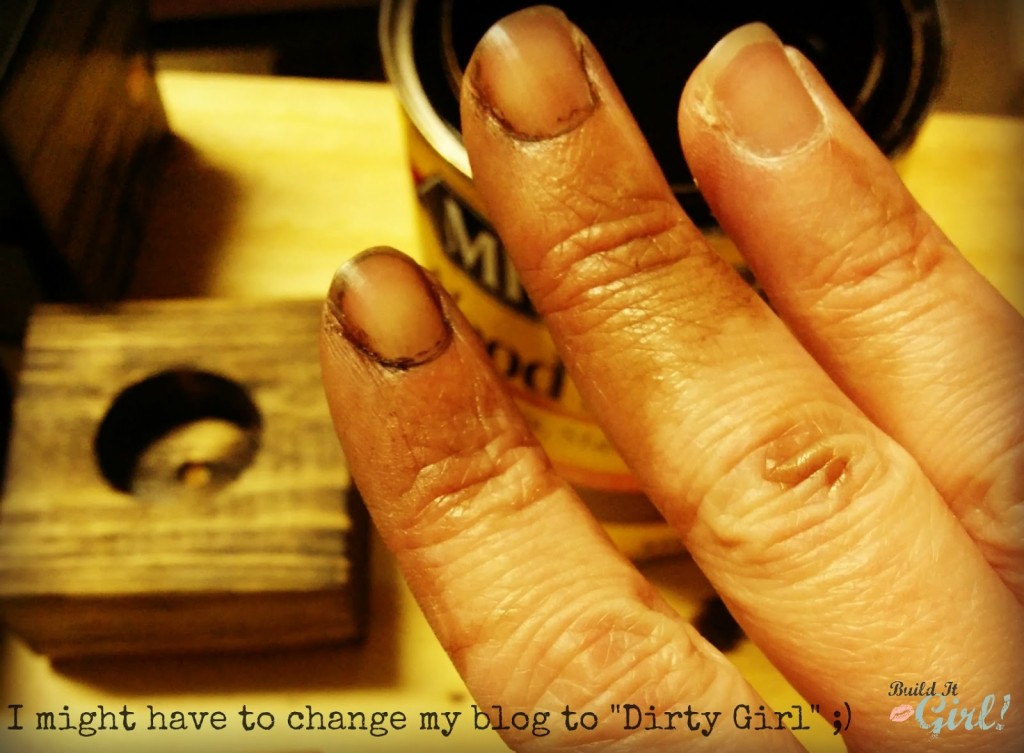 here's where the plastic gloves would come in handy!
All Done.  Enjoy the Light. 🙂